Buildx, Feelif and SAGA-The Peer to Peer Learning Platform have been announced as the winners of the 2017 European Social Innovation Competition, 'Equality Rebooted', at an awards ceremony in Brussels.
Selected from nearly 800 applicants from more than 40 countries, each project will receive a €50,000 prize from the European Commission.
The competition also awarded an Impact Prize of €50,000 to the semi-finalist from the 2016 edition who has achieved the greatest impact in the past year. The Bike Project took home this prize following outstanding results supporting refugee mobility and integration in the UK.
This year's competition called for ideas to ensure that everyone in Europe benefits from the opportunities created by technological change. The three winners presented fresh approaches to tackling inequalities in the housing system, adult education and access to technology for the visually impaired.
At the ceremony, the 10 finalists of this year's competition pitched their ideas, and there was a debate on the relationship between technology and inequality with Robin Wauters, Mara Balestrini, Martha Rehnberg and Daan Weddepohl.
The prizes were awarded by Lowri Evans, Director General for Internal Market, Industry, Entrepreneurship and SMEs at the European Commission, in front of an audience of 150 social innovators and policymakers.
The winners
British winner, Buildx, is a collaborative platform that offers the tools and knowledge to design and build sustainable homes and neighbourhoods. Buildx digitises and opens up the housing supply chain, creating a new infrastructure for investing in, designing, manufacturing, assembling and operating buildings. As a result, sustainable buildings become cheaper and accessible to a broader public, and a bigger market becomes available for companies along the sustainable building supply chain.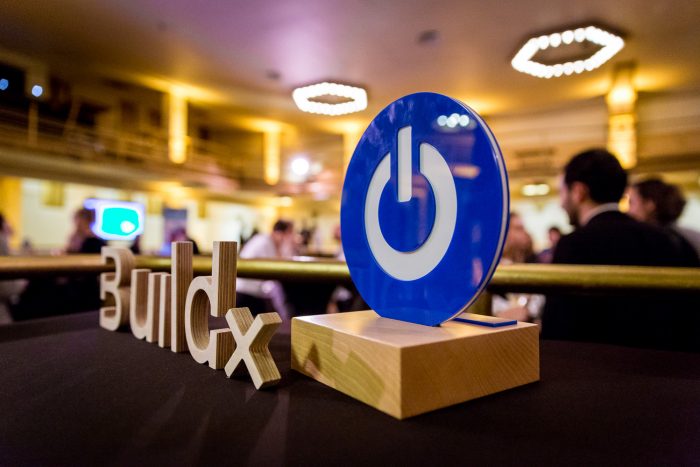 Slovenian winner, Feelif, is a multimedia tool for blind and visually-impaired people, with which users can feel shapes on a flat touch screen. The project uses an app and a special relief grid to allow users to feel 'bumps' from shapes and contours on the screen through vibration signals. This opens up endless possibilities to read, learn and create content for blind people and makes access to technology more inclusive.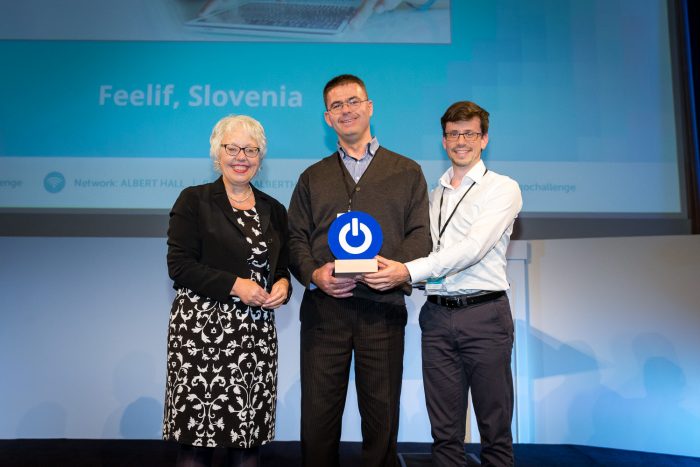 Another winner, SAGA-The Peer-to-Peer Learning Platform, is from the Netherlands. In a fast-changing labour market, SAGA helps learners get a flexible education and learn in-demand skills from industry experts. Blockchain is used to create a digital record of the trainings completed and the results. Learners can also invite members of the community to crowd-invest in their education in exchange for a portion of their future income.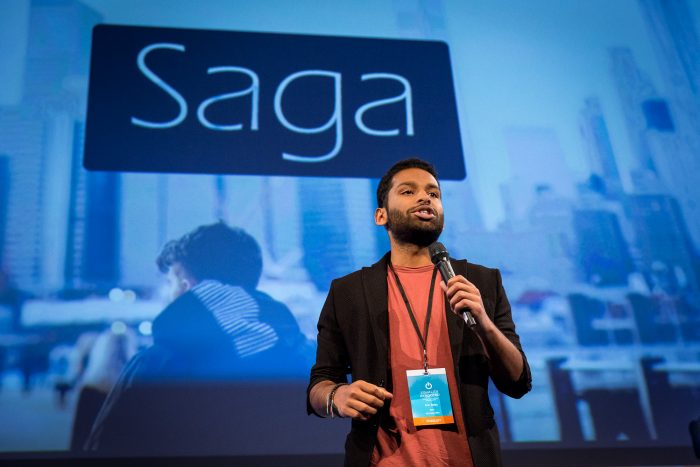 The Impact Prize winner, The Bike Project, was one of the 10 finalists in the 2016 Competition, 'Integrated Futures', which looked for solutions to ensure the integration of refugees and migrants. The Bike Project refurbishes second hand bikes to donate to refugees and asylum-seekers, tackling the issue of lack of mobility and contributing to users' independence and securing access to services.
The project has donated 1,000 bikes to refugees in the space of a year, saving users an estimated £1,040,000 in travel costs. A proportion of the bikes refurbished are sold through its trading arm, The Bike Shop, to generate funds and ensure long-term sustainability.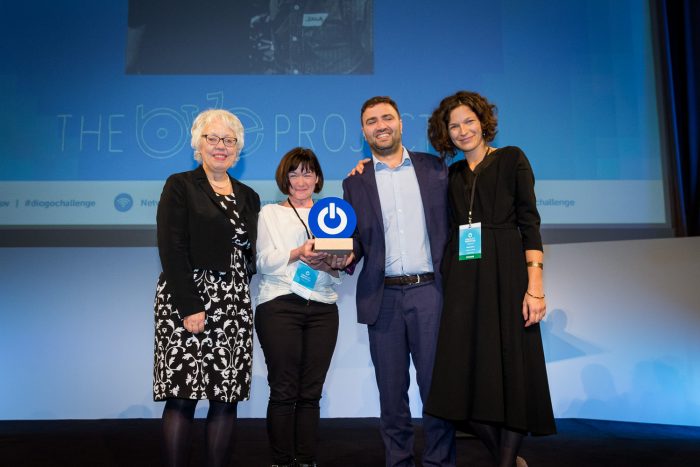 European Social Innovation Competition
Launched in memory of Diogo Vasconcelos, the European Social Innovation Competition is an annual competition of the European Commission to find new innovations addressing a different social theme each year. In response to digitisation's transformative effect on society and the labour market, this year's competition aimed to ensure technology is used to include everyone in Europe in the change it engenders.
Out of nearly 800 entries, our judging panel selected 30 semi-finalists to attend a mentoring academy in Madrid in July. Those semi-finalists then submitted a full business plan, from which 10 finalists were invited to the awards ceremony. Buildx, Feelif and SAGA were announced as the winners at the ceremony in Brussels on 26 October 2017.
The European Social Innovation Competition will be back in 2018 tackling a new social challenge. You can get updates by following the Competition on Twitter: @EUSocialInnov #diogochallenge.